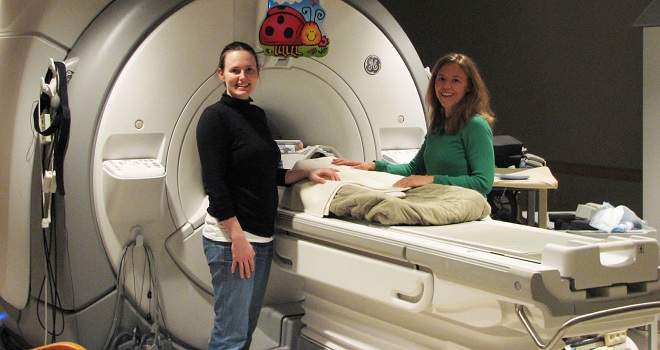 Conte Center - Early Neurodevelopmental Origins of Anxiety
The Conte Center is investigating early brain and emotion-related behavior development. The purpose of the research is to learn more about how very early experiences influence the developing brain and impact child well-being. The project is directed by Dr. Richard Davidson and brings together the collective expertise from long-time collaborators, Drs. Hill Goldsmith, Marilyn Essex, Ned Kalin, Andrew Alexander, Rasmus Birn, and Su-Chun Zhang. This team will examine research questions using state-of-the-art scientific research methods and approach novel questions through the lenses of neuroscience, clinical and developmental psychology, psychiatry, medical sociology, cell biology, and medical physics. Collectively, these studies will help answer important questions about the nature and sources of individuality when the brain is in its most formative period of development.
The Conte Center is largely funded by a Silvio O. Conte Center for Basic and Translational Mental Health Research grant (P50-MH100031), awarded to Dr. Richard Davidson.
Silvio Ottavio Conte (November 9, 1921 – February 8, 1991) was a Republican member of the State House of Representatives for 16 terms, from January 3, 1959, until his death. He was a passionate advocate for environmental causes and federal research. The National Institute of Health continues to honor him today with grants for neurological research awarded in his name. The Conte funding mechanism is intended to support research demonstrating extraordinary potential for advancing the state of the field through highly integrated programs of cutting edge research, rapid widespread dissemination of results and data to accelerate research on mental health.
The Conte funding facilitates a seamless process of continued synergy among the investigative team. The Conte's Administration Core coordinates training activities and interfaces with three existing training grants (T32's) to enhance training for graduate students in medical physics, neuroscience, clinical psychology, developmental psychology, cellular biology. The Administration Core also includes an Undergraduate Summer Research Program and Summer Workshop. Infrastructure support is provided by the Waisman Center through a Eunice Kennedy Shriver National Institute of Child Health and Human Development (NICHD) grant, P30-HD03352.
Join us on the journey of discovery.
Please visit our participant page to learn more about how to get involved.